Happy Friday! I hope you all have had a great week thus far!
Today is an exciting day for me! I'll be attending my hubby's graduation ceremony from the Police Academy! I'm so proud of him!!
Isn't he handsome!!
Today is also exciting because yesterday was my LAST day of class as a PA student!! We have one week of final exams, then we start our clinical rotations! That's right folks, they're letting ME treat REAL patients!
Now, onto the good stuff!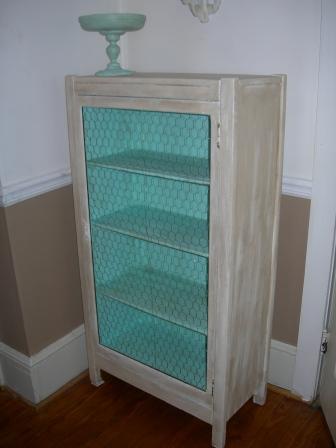 I absolutely ADORE this cabinet from Jane and Leo @
Cottage At The Crossroads!
The colors are perfect and I love the look the chicken wire gives it!
Rhiannon from
My Handcrafted Home
made these awesome napkin holders using scrap fabric! So simple, and such a great way to add a custom touch to your table!!
This chair makeover from
Artsy VaVa
is awesome! Her inspiration for this chair came from the screaming peacocks across the street! Haha! Pay her a visit to see how she did the peacock feathers on her chair! Love it!
Maybe I'm just in baby mode for my cousin's baby shower, but I just thought this pink rocking chair from Angie at
The Cellar Door Stories
was precious!! The little sweetie she refinished it for is adorable too!
Jordan at
The Fun Cheap or Free Queen
made this rosette letter for her on-the-way baby's nursery! What an awesome nursery - do you see that chevron pillow and bedding? Yes, please!
Thanks everybody for all the inspiration! You guys rock!
I also hope you all bear with me and my absence for the next week or so - final's week is no joke, and as much as I don't want to I HAVE to study! I might be able to finish one project! ;)
Have a great weekend!
Cheers!