I know I've mentioned it a few times, but I just wanted to remind you one more time about the party going on here this Friday!
This Friday I'll be wrapping up the Spring into Spring party put together by Jane from Adventures in Dinner!
You can head over to her blog for links to all the parties that have already started!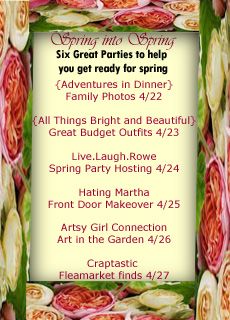 As you can see, my party is about Fleamarket finds, or just sprucing up any old 'junk!' There will be a linky party on my post this Friday so feel free to link up some of your junk transformations!!
Hope to see you there!
Now - for the catching up part!
Over a month ago I was given the versatile blogger award from
Bringing Beauty
and I'm just now thanking them! Thanks ladies!! They host a linky party every Monday and they have tons of great ideas to share!
As I've mentioned before, I always cheat and just do the question part - here ya go!
1. Can you juggle?
Haha - no. No I cannot.

2. If you had to leave your home quickly and couldn't go back, what are 3 things you'd take (aside from people/pets)?
My baby blanket which is in almost pristine condition even though I carried it everywhere with me when I was little, my computer which has a bazillion photos on it (including my wedding photos), and whatever treasure the hubby wants.

3. How do you typically spend a Sunday?
It varies with my mood. Hubby works the third shift, so sometimes I sleep in really late with him. Other Sundays, like yesterday, I go on a project frenzy and work all day trying to finish as much as I can! Once the weather warms up the hubby and I will start fishing again!

4. What actor would you want to portray you in a movie?
I really like Reese Witherspoon. And hey, she's from Tennessee too!

5. Have you ever had stitches? Where and why?
Three times - the first time I cut a deep gash into the inside of my right, lower thigh with a broken glass bottle. I was only six and took about that many nurses to hold me down. Afterwards I looked at the Doctor and said "Is that it?" Ha - what a brat.
The second time I tripped while trying to take a sip out of my friend's soda without touching my lips to it and sliced open my knee.
Third time I got bit by a dog at work.

6. Do you have a nickname?
Not anymore - I had a few random ones in highschool. Now I'm just plain old Katie.
Yeah, I should probably ride the short bus.

7. What is your favorite word?
How bout a word I use frequently. That would be "really?!" I use that a lot when driving. I may or may not have serious road rage.

8. Sweet or sour? Which do you prefer?
Sweet right now!

9. What are three yellow things near you right now?
Package of white cheddar goldfish, package of peanut butter crackers, and that's actually it. Yeah, I keep it healthy up in here!

10. What's your cocktail/drink of choice?
If I'm having beer I like Heineken. If I'm feeling girly I have Malibu coconut rum with pineapple juice and grenadine. You can thank me later.

11. Why do you blog?
Like many I got started just to have a place to put up my projects. But now I feed off of the drive and creativity from everyone. It's a great creative outlet, a way for me to keep sane. I've also met some amazing folks!
Cheers!